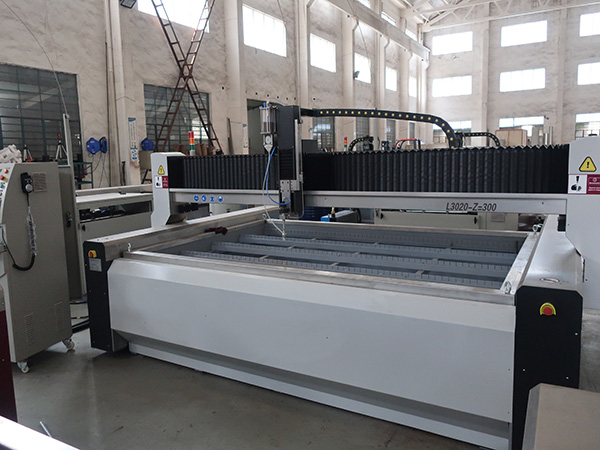 Spesifikasi:
---
1.Water jet cutting working table
2.Intensifier made in usa
3.Yaskawa servo control
4.Waterjet cutting head
5.Automatic abrasive delivery system
Perkara
Model
RC2015
Struktur
Jambatan
Cutting table size
2100*1600mm
Strok
Paksi X
2000mm
Paksi Y
1500mm
Paksi Z
130mm
Pengawal CNC
Step System / AC Servo System
Ketepatan
±0.1mm
Cutting
Kebolehulangan
± 0.05mm
Traverse speed
6500/15000 mm/min
Bekalan kuasa
220V/380VAC,50Hz
Turbocharger parameters

Perkara
Model
450B
Maximum pressure
450Mpa
Normal operating pressure
350-380Mpa
Main motor power
37KW Siemens
Oil pump
Variable
Penyejukan
Water/Wind/Oil
High-pressure cylinder
Diimport
Inlet valve
Diimport
Ceramic rod
Diimport
Akumulator
Single taper
Bekalan kuasa
415/380/220V AC 3P
feature:
---
1.Mengguna pakai konfigurasi pemacu servo Skru bola Taiwan, panduan linear boleh mencapai pergerakan lancar, untuk memastikan operasi lancar. Untuk memastikan kelancaran penghantaran keseluruhan mesin.
2. asas keluli, rasuk diimport paip keluli lancar berkualiti tinggi, dan kemudian mengosongkan rawatan haba sebenar, perubahan yang tidak kelihatan.
3.A full range of cutting capacity, any plane curve cutting.
4.Specially reinforced bed structure, so that the cutting head does not produce vibration during high-speed operation, the machine runs smoothly, cutting speed, high precision machining.
5.The screw and guide provided by the well-known Taiwan manufacturers, X, Y-axis is the original oil-immersed screw rail lubrication, plus a waterprooof, dust-proof structure to ensure that the machining accuracy of CNC cutting platform, and maximize the service life of the screw guide.
6.Cutting head is equipped with reliable pneumatic high-pressure water switch control device, improve production efficiency.
7.Unique sand valve design, simple structure,the flow of sand smooth, easy to repair.
8.All stainless steel protective cover, dustproof, waterproof, anti-rust, anti-corrosion, easy to use water to clean, maintain the cutting platform perennial burnished as new.
9.4-axis and 5-axis system tilt cutting heading for optional choice with extra charge.
10.Varities kinds of applications:Ceramic, Stone, Glass, Marble, Stainless Steel, Plastic foam, Aluminum
11.any size of cutting machine is availble for our customers requirement.
perkhidmatan kami
---
After-sale service commitment
A. We are assure that the equipment is completely brand-new and will conform to the technical specifications.
B. The machanical guarantee on machinery and equipment shall be 12 months after the acceptance data(Vulnerable parts excluded).
C. The damages are due to faults in design or workmanship, We will replace or repair it base on the follow situation.(Vulnerable parts excluded)
The following guarantee is for the vulnerable parts:
a. The part is broken before less than 50% of its guarantee time, the seller will replace or repair it at the seller's own cost.
b. The part is broken up to or more than 50% of its guarantee time, the seller and buyer should bear its cost base on the percentage of the using time.
c. The part is broken after its guarantee time, the buyer should replace or repair it at the buyer's own cost.
Installation and training: we can send technician to your place for the complete installation and training. The buyer must paid in advance for all the expense include travelling, visa, hotel, and meals etc.
Butiran Cepat
---
Keadaan: Baru
Perkhidmatan selepas jualan yang disediakan: Jurutera yang tersedia untuk jentera perkhidmatan di luar negara
Item: Portable waterjet cutting machine
Size: 2100*1600mm
Cooling way: Water/Wind/Oil
Drive type: Yaskawa Servo Drive
Cutting Accuracy: +/- 0.1mm
Max operation pressure: 450Mpa
Motor Power: 37KW Siemens
Application Material: metal, stone, glass, stainless steel
Warranty: 1 year
kos mesin pemotong jet air