Mesin pemotong laser serat adopts computer control technology and high-performance CNC laser power system to process all kinds of metal sheet at high speed,high accurate,high efficiently cutting. Its products have smooth edge,small kerf width and little heat effect.Cut the shape of Circle, Triangle, Octagonal etc. on metal sheet or round/square/rectangular tube.
The machine working area can be made as customer requirements and now the laser power can be installed 300w 500w 1Kw,2Kw(That will be decided by the customer processing material thickness).there must be one model suitable your requirements.
Characteristics/Advantage of our fiber laser cutting machine :
1.Stabiliti dan kebolehpercayaan sistem laluan cahaya dan sistem kawalan
2.Focused laser beam ensure that slim cutting kerf is only 0.15-0.2mm wide for perfect cutting effect.
3.Imported original fiber lasers,high and stable function,lifespan is over 100000 hours
4.Higher cutting quality and efficiency ,cutting speed is up to 80m/min with appearance and
excellent cutting edge with little thermal deformation,smooth and aesthetic appearance
5.German high performance reducer,gear and rack;Taiwan Hi-win guide and ball screw.
Almost maintenance-free because without reflector,there is no need to adjust optical path
6. Specially used for cutting 0.5-12mm carbon steel,0.5-6mm stainless steel,galvanized steel,electrolytic zinc-coated steel sheet,silicon steel and other kinds of thin metal sheets
Technical Parameter:
---
| | |
| --- | --- |
| Model Mesin | 1500*3000mm or 1300*2500mm |
| Kuasa Laser | 300W/500W/750W/1000W/2000W/3000W/5000W |
| Fiber laser Generator type | IPG/Raycus/Rofen |
| Panjang gelombang Laser | 1064nm |
| Laser Beam quality | <0.373mrad |
| Working Table | Gergajian |
| Fiber Laser cutting head | USA Lasermech |
| Focus lens | USA Lasermech |
| Working life of fiber module | More than 100000 hours |
| Motor & Pemandu | Japan servo motor |
| Guide Rails | Taiwan Hi-win square guide |
| Transmit system | Gear Rack and Taiwan Hi-win ball screw |
| Water Chiller | TEYU( S&A) or DOLUYO or HANLI brand |
| Sistem kawalan | Professional laser control system--Cypcut |
| Position type | Red Dot |
| Ketebalan memotong | ≤10mm(stainless steel) ≤16mm(carbon steel) |
| Max. Idle Running Speed | 1400mm / s |
| Kelajuan Keratan | 300mm / s |
| Ketepatan kedudukan | ± 0.05mm / m |
| Position Speed | 20m / min |
| Min. Line Width | ± 0.02mm |
| Penggunaan kuasa | ≤12KW |
| voltan | 380V/50HZ or 380V/60HZ,3PH |
| Auxiliary Gas for cutting | Oxygen, Nitrogen, Air |
| Perisian yang serasi | Autocad, Coreldraw, etc |
| Graphic format | Nc |
| Working method | PC control |
| Total power protection rating | IP54 |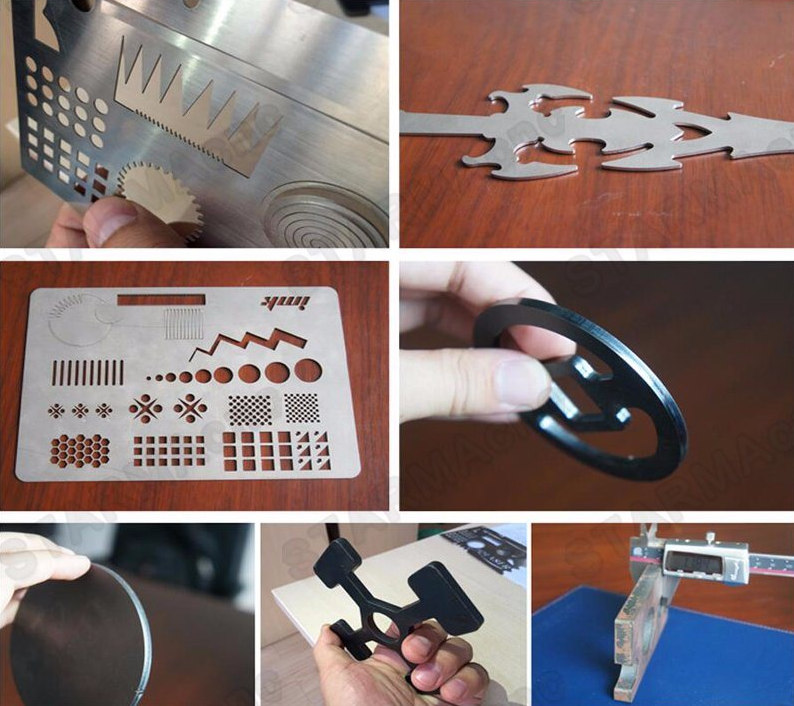 Guarantee:
1.12 months guarantee of the whole machine
2. Bahagian utama (tidak termasuk bahan habis pakai) akan ditukar secara percuma jika terdapat sebarang masalah semasa tempoh jaminan.
3. Penyelenggaraan seumur hidup percuma
4. Kami akan menyediakan bahagian-bahagian yang boleh dibelanjakan pada harga agensi apabila anda memerlukan penggantian
5.Machine telah diselaraskan dan diuji sebelum penghantaran
6.Kakitangan kami boleh dihantar ke syarikat anda untuk memasang atau menyesuaikan jika perlu
Payment terms:
T/T 30% payment for deposit, after the machine finished, we will take the testing videos for you to check the machine, after you satisfied the machine you pay the left 70% payment. Then we will delivery the machine.
Perkhidmatan selepas jualan:
1. 24hours Technical support by Email or Calling.
2. Bahasa Inggeris manual dan video CD untuk mesin menggunakan dan mengekalkan.
3. Hardware: 1 years for machine (without person damaged).
Software: Whole life on update for free.
Maintenance and technological support: Whole life
Packaging and delivery:
Delivery
Within 7 working days for production, we will arrange delivery after received the total payment
Packing
Firstly, Packed the machine with plastic sheet for clearing and damp proofing.
Secondly, Then put the machine in the plywood case for safety and clashing.
Thirdly, Transport the plywood case into the container.
Info asas
Teknologi Laser: Pemotongan Kerosakan Kawalan Laser
Nama: Mesin Pemotongan Serat Laser
Laser Power: 500W/750W/1000W/2000W/3000W
Fiber Laser Generator Type: Ipg/Raycus/Rofen
Panjang gelombang laser: 1064nm
Fiber Laser Cutting Head: USA Lasermech
Motors&Drivers: Japan Servo
Guide Rails: Taiwan Hi-Win Square Guide
Water Chiller: Teyu( S&a) or Doluyo or Hanli Brand
Control System: Professional Laser Control System--Cypcut
Power Consumption: 12kw
Cap Dagangan: ACCURL
Transport Package: Standard Export Plywood Case
Specification: 1500x3000mm
Asal: China
---
mesin pemotong laser tiub logam